Media Advisory Date: 6th June 2022
Venue: Virtual Meeting (Registration Link: https://bit.ly/3M40nVp)
WHAT: Youth Dialogue Ahead of AU/CIEFFA's Expert Meeting in June
THEME: Assessing Learning Losses to embrace Learning Recovery for African girls
WHEN: 6th of June 2022
TIME: 11:00 am – 12:30 am (GMT)
WHO: African Union International Centre for Girls and Women's Education in Africa (African Union CIEFFA)
Participants
African Youth and Youth Networks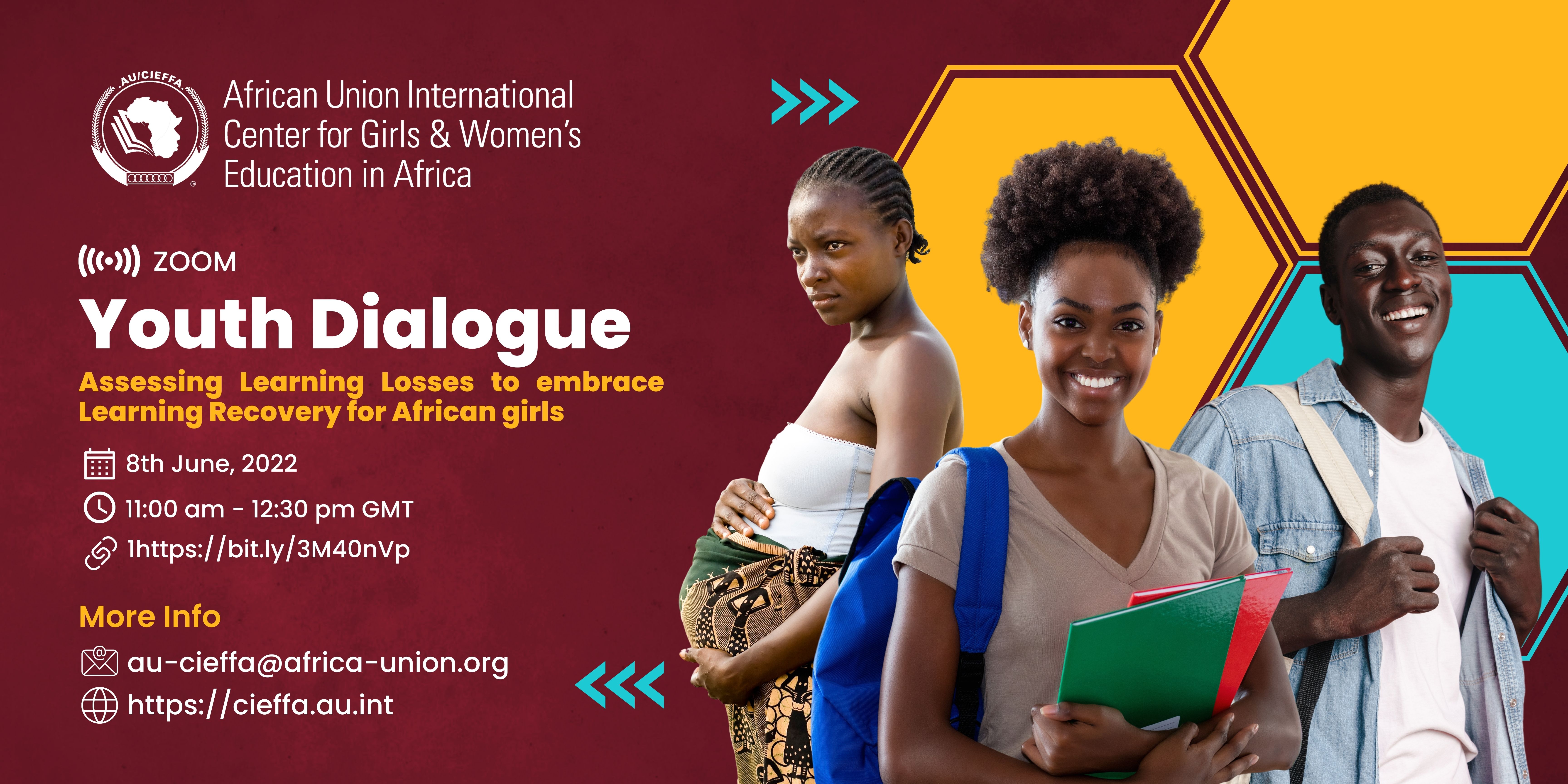 The African Union CIEFFA will host a virtual continental youth dialogue on assessing learning losses to embrace learning recoveries on the 8th of June 2022.
Students around the world lost significant learning time owing to abrupt and constant school closures since the outbreak of the COVID-19 pandemic. According to UNESCO monitoring, in 2020, schools were completely closed for an average of 15 weeks which is equivalent to 4 months worldwide.
In particular, students and youth from across Africa have been severely impacted by COVID 19 related school closures and were exposed to different forms of gender-based violence, unintended pregnancies, and affected livelihoods. Youth, therefore, bring diverse, and on -the ground realities on the pandemic impacts on learning outcomes, and possible solutions to recover learning losses.
This dialogue is planned ahead of the African Union CIEFFA high-level Education Experts Meeting scheduled for the end of June 2022 in Dakar, Senegal focusing on the same theme and the recommendations from the dialogue will be shared with education experts in Dakar who play an important role in the implementation of education policies with the support of State and non-state education actors.
Objectives:
The Youth Dialogues aims to Curate an authentic space where youth can meaningfully contribute to the 'Recovering Learning Losses' Agenda and;
Discuss learning losses and their impacts, especially on girls in Africa from the youth perspective.
Explore opportunities, challenges, solutions and best practices for recovering from learning losses in their communities;
Curate an authentic space where youth can meaningfully contribute to the 'Recovering Learning Losses' Agenda;
Contribute to the discussion paper highlighting realities and recommendations to be shared at the Expert Meeting;
African Union International Centre for Girls' and Women's Education in Africa
AU/CIEFFA is a specialized institution of the African Union under the Department of Human Resources, Science and Technology. The Centre aims to promote girls' and women's education with a view toward their full participation in the eradication of poverty and the edification of a peaceful world for sustainable human development. http://cieffa.au.int.
For further information please contact:
Ms. Anoziva Marindire, Communications Officer | African Union CIEFFA | African Union Commission | Tel: +226 25 37 61 55 | E-mail: MarindireA@african-union.org| Ouagadougou, Burkina Faso
Ms. Lorato Madongo, Gender Research Analyst | African Union CIEFFA | African Union Commission | Tel: +226 25 37 61 55 | Email: MudongoL@africa-union.org | Ouagadougou, Burkina Faso
Ms. Faith Adhiambo, Communications Officer- Agenda 2063 | Information and Communication Directorate | African Union Commission | Tel: +251 115 517 700 | E-mail: ochiengj@africa-union.org | Addis Ababa, Ethiopia
Information and Communication Directorate, African Union Commission I E-mail: DIC@africa-union.org
Web: www.au.int | Addis Ababa, Ethiopia | Follow Us: Facebook | Twitter | Instagram | YouTube